There are many single-season records for the Patriots. Some feel there is no possible way they will be broken this year (or ever), such as Randy Moss with 23 touchdown catches in 2007 (NFL record as well). Still, others seem relatively breakable, and in the right circumstances, we could have new Patriots single-season record holders. Records are made to be broken (especially with 17 games in a season and high offensive numbers across the board).
*All records are Patriots records, not NFL records.
Single Season Records
Completion Percentage
Record Holder: Tom Brady 68.9% in 2007
Who Could Break It: Mac Jones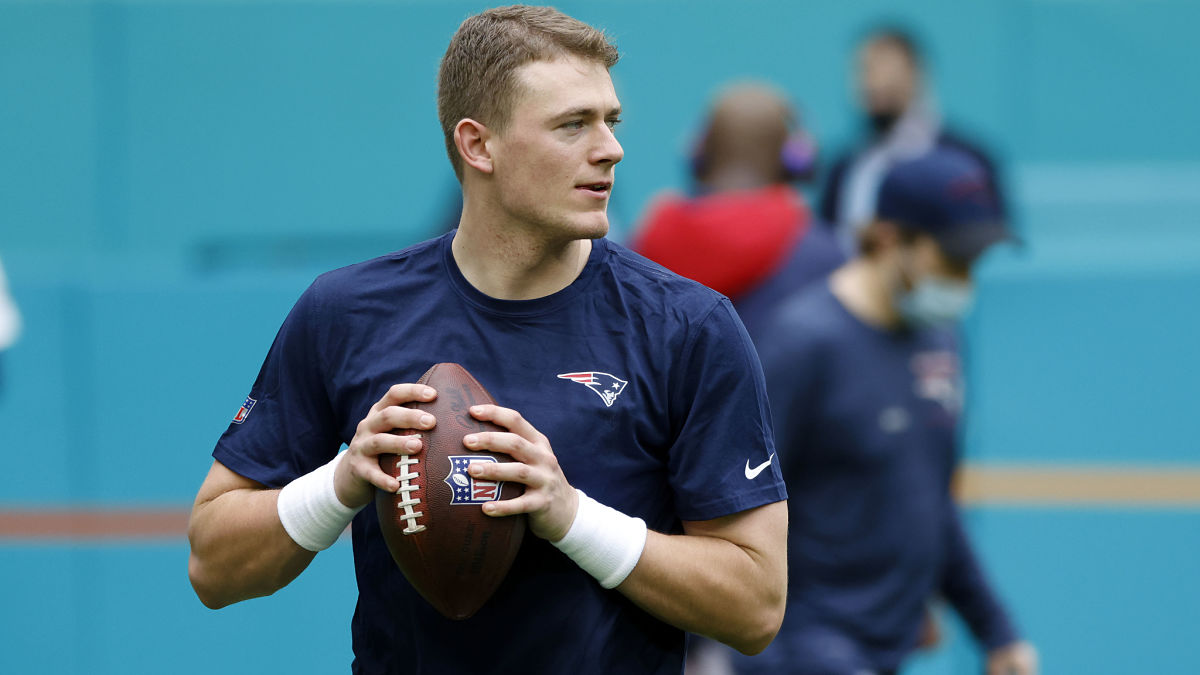 One of many Patriots single-season records set in '07 by Brady and the rest of the team, the completion percentage record is among the most breakable.
Jones was on pace to break this record very deep into the season. Through 13 games in his rookie season (the length of his 2020 season at Alabama, where he had an NCAA record 77.4% completion rate), he had a 70.3% completion rate and now has experienced the grind of a full 17-game NFL season (and gained experience against NFL defenses) he is exceptionally well equipped to break the record next season.
Chances He Breaks It: 40%
This seems like a record that he could set comfortably, although he has to keep his horrendous games to a minimum (like the 14/32 against the Bills (not the wind game (he was two of three in that, so short of the mark needed but not something that stopped him from breaking it), or the 18/35 against the Chargers). However, he did have nine games with over a 70% completion percentage (four over 75%, two over 80%). Getting to six over 75% and three over 80% will be difficult but would be a massive help.
Rushing Touchdowns
Record Holder: LeGarrette Blount 18 in 2016
Who Could Break It: Damien Harris
Harris had 15 touchdowns last season on just 202 carries and missed two games as well. If he can catch lightning in a bottle again and get about 50 more carries, he could get 19 rushing touchdowns. Carry sharing may be a concern, but he put up massive numbers in college at Alabama, especially in 2018 when he had Josh Jacobs and Najee Harris to compete with. He still had 22 touchdowns on just 150 carries in 15 games at Alabama. It's not that easy in the NFL, but he has shown he has the potential to do it.
His touchdown percentage last season was 7.4 while tying the record with 250 carries (he could do it as he was on pace for 233 if he played all 17 games) would require 7.2%, and breaking the record would require 7.6%
Chances he breaks it: 15% (20% to tie)
This is a highly ambitious target but is possible, especially if he does not have games where he gets just six and four carries in consecutive weeks.
Catch Percentage (Minimum 50 Catches)
Record Holder: Kendrick Bourne 78.5% in 2021
Who Could Break It: Kendrick Bourne
I mean, he just set the record last year, and I said Mac Jones could break the record for completion percentage because he nearly set it last year. So it is possible for the guy who broke the catch percentage record to break it again, especially since he didn't smash it. So Jones and Bourne could help each other break records.
Chances He Breaks It: 12%
It feels weird that a guy who set a record but didn't smash it and who is heading into his age 27 season has only about a one in ten chance of breaking it. He also has never been above nine yards per target before this season. When people like Gronk, Welker, and Moss couldn't break it, it seems like a complicated thing to improve.
Yards Per Target (Minimum 40 Catches)
Record Holder: Kendrick Bourne 11.4 in 2021
Who Could Break It: Tyquan Thornton
Bourne was extremely underrated last season, as his two single-season Patriots records he set last season show. He could have an outstanding season, but someone else may break the Yards Per Target record next season.
That is rookie receiver Tyquan Thornton's second-round draft pick (50th overall) this year. Thornton has track star speed (4.28 40-yard dash). He was a deep threat at Baylor (average target depth was over 15 yards). If he has a similar average target depth with a more accurate quarterback than at Baylor, he can easily break the record with a couple of long touchdowns.
Chances He Breaks It: 20%
You don't often know what to expect from a rookie receiver, especially a second-rounder. A path for him to break it is if his ten longest receptions average 35 yards (not a guarantee) and he gets 50 catches (not a guarantee), and he keeps his drops to a minimum (not a guarantee). Mac Jones was twelfth in average target depth last season at (8.0 air yards per attempt), so that won't hurt.
Most 50+ Yard Field Goals
Record Holders: Stephen Gostkowski 2013 and Nick Folk 2021 (five each)
Who Could Break It: Nick Folk
Folk barely won the job in the preseason, and now he tied the record for 50+ yard field goals in a season (along with going 36/39 on field goals (92.3%)). He had eight attempts, so one-kick being better would have meant he would hold the record all to himself (and was perfect inside 50 yards).
Chances He Breaks It 20% (30% to tie)
Kickers are kicking field goals from longer and longer distances. This record gets more and more breakable every year. Although this is being offset by coaches being more willing to go for it on fourth and short (although we only went for it 17 times (fourth fewest in the league).
New England Patriots Football Reference Page (where I found the records)
Links To Our Socials, Other Articles & Paid Job Opportunites
Follow me @nathanjm000
Follow us on Twitter @GilletteGazette & Like Our Facebook Page
Check out our other articles @ The Gillette Gazette
Are you an NFL fan? Have some takes you want to get out into the world? This is the place because we have plenty of opportunities at Stadium Rant spanning the whole NFL and more!